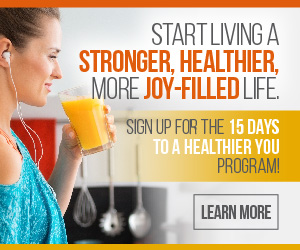 Hi, Friend!
Health is something I never want to take for granted! I am always looking for good resources to learn and grow. I loved this course. Filled with great advice and tips. Crystal has repackaged the course that she offered in Jan. And she is offering it at a CRAZY low introduction price of $5.00!! But for 1 day only. The sale officially starts tomorrow, Nov. 8, but you have a chance to get it now! Nov. 9th the price will be $10.00 and after that the regular price of $15.00. Still an awesome deal!
If you're looking for some help with prioritizing your health so you can live a happier, healthier, more joy-filled life, I highly recommend checking out Crystal Paine's new course, 15 Days to a Healthier You.
In this course, Crystal shares all of her proven strategies that have helped her rebuild her own health! After making some life-altering changes in her self-care regimen, Crystal found herself recharged and refueled in a way she never thought possible.
And because these changes made such an enormous impact on her personal life, she decided to complile all of her tips and strategies into a full-length 15-day course to help those of us who want to overhaul our health and grab ahold of that vibrant, healthy life we're all dreaming of.
When you purchase this 15-day course, you'll get immediate access to …
*15 daily videos lessons — one for each day of the course.
*Daily projects to help you on your own journey to live a healthier life.
*Some of my favorite recommended resources (links, books, podcasts) to go along with each day's lesson.
*A PDF workbook including the entire course lessons that you can download and print.
*Access to the 15 Days to a Healthier You Facebook group!
*BONUS access to the original 15 Days to a Healthier You video series!
Get the help you need to live a stronger, healthier, more joy-filled life today by signing up for 15 Days to a Healthier You today!
Celebrating Health!!
Janice